In building our physical and social worlds, we build (or rather, we massively reconfigure) our minds and our capacities of thought and reason.
Clark, A. (2008). Supersizing the mind. Embodiment, action, and cognitive extension.
Oxford, New York: Oxford University Press.
The focus of the OCKO research group revolves around learning, knowledge creation, innovation, and change in educational, research, and organizational/work settings.
We view these settings (e.g., universities, companies) as organizations that are capable of creating knowledge (i.e., knowing organizations), and assume that — by employing a variety of different methods and approaches — the structures or environments of these organizations can be identified, activated, changed, manipulated, or intentionally designed (i.e., through organizing cognition) in order to support such processes of knowledge creation and learning. Our approach is based on the theoretical perspectives generally referred to as 4E (i.e., embodied, embedded, extended, enactive) and 4EA (& affective) cognition, as well as the concept of cognitive institutions (i.e., organizations as socially extended cognitive systems).
We are a diverse team of researchers with different disciplinary backgrounds and work experiences in both academia and the private sector, who — despite their different research interests — have a common focus on above mentioned cognitive and organizational knowledge processes. The name OCKO is meant to reflect and accommodate our broad range of interests and backgrounds, as well as to invite others who share them and want to cooperate with our group.
News & Updates
14.04.2022:
Invitation to the virtual mini symposium "Responsible Knowledge Management: Reflecting on the Future of Knowledge Management in a VUCA World"
The Virtual Mini Symposium is organised by the Knowledge Management Group at the Vienna University of Economics and Business, Austria, in collaboration with the OCKO Research Group at the University of Vienna, Austria.
The intention of this online event is to share perspectives, capture ideas, and spark the discussion on value-based perspectives on knowledge management (e.g., non-rational knowledge, phronesis, spirituality, and responsible knowledge management). Distinguished academics will share their thoughts on the future journey of KM and present their research.
What?
> Mini Symposium "Responsible Knowledge Management: Reflecting on the Future of Knowledge Management in a VUCA World"
Where?
> Simply join the event online via ZOOM
When?
> Mon, 25 April 2022, 4 – 6 p.m. (CEST): Non-Rationality and Spirituality in Knowledge Management
> Thu, 28 April 2022, 4 – 6 p.m. (CEST): Responsibility and Sustainability in Knowledge Management
More information?
> Have a look at the event website or the invitation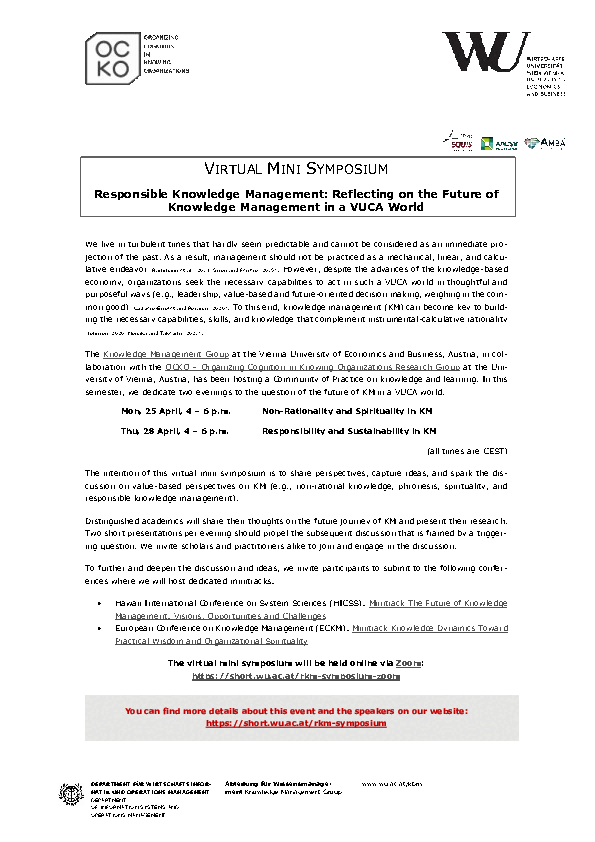 01.04.2022:
* Info for our German-speaking colleagues *
Gloria will give a keynote talk on how to become fit for the future through innovation and sustainability at ECOVATION 2022.

Was?
> Keynote "Zukunftsfähig werden durch Innovation und Nachhaltigkeit"
Wo?
> @ ECOVATION 2022, Salzburg Congress, 5020 Salzburg
Wann?
> 05.05.2022, 10:30-11:00; siehe Programm
Anmeldung?
> kostenlos bis 21.04.2022 via Anmeldeformular
19.02.2022:
OCKO is now officially a potential research partner for the FFG Innovation Voucher: "The Innovation Voucher is designed to encourage SME to co-operate with research institutes. It should make it easier for small and medium-sized companies to overcome inhibition thresholds regarding cooperations with research institutions."
Feel free to contact us!

28.01.2022:
Peter and Katharina will participate in this year's CoBeNe PhD Academy with a talk and a poster, respectively. Registration to the event is open until the upcoming Monday, 31.01.2022!
17.11.2021:
We just launched our new website! Welcome :)
06.10.2021:
Peter and Markus gave a talk at this year's MEi:CogSci lecture series: 'What Does It Mean to Become a Cognitive Scientist?' and 'Enabling Innovation: Cognition, Space, and "Learning from the Future" ', respectively.

The lecture series runs throughout the whole semester and is open to all students - Check out the programme here and simply join via zoom!
28.09.2021:
We are happy to have participated in this year's uniMind 'University - Society - Industry' series, especially in the year of its 10 years anniversary! We contributed two book chapters: 'Creating Novel Knowledge by Cooperating with Each Other, the World, and the Future' and 'Lessons Learned from COVID-19: How to Design Virtual Enabling Spaces for Innovation Teams'.
Feel free to contact us for more information on our chapters!